Shipping
Shipping to all over Saudi Arabia
Support 24/7
Contact us 24 hours a day

EMAIL:
Info@industrial-mall.com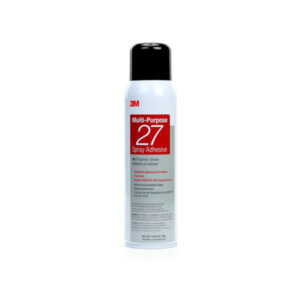 3M Multi-Purpose 27 Spray Adhesive is an economical, versatile, fast-drying spray adhesive that bonds a wide range of lightweight materials. Its permanent bond provides fast results to keep projects moving ahead. The photo-safe spray formula is easy to dispense and apply directly onto surfaces and materials where needed, with no soak-in or yellowing over time.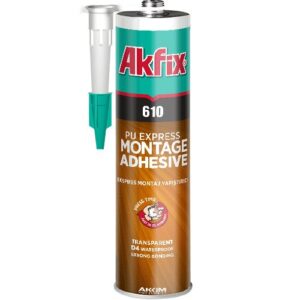 Akfix 610 is a single component, fast curing polyurethane based adhesive. It combines high bond strength with fast curing. The water resistance property makes it exceptionally good at bonding wooden surfaces where water splash and moisture is an issue.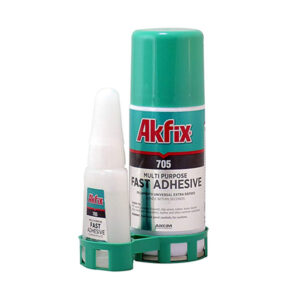 An adhesive set which consists of high viscosity cyanoacrylate adhesive and activator.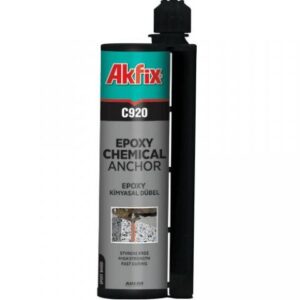 Akfix C920 is a high performance styrene free epoxy acrylate injection mortar for solid and hollow
supports having a short cure time. It is suitable for use in concrete, stone, perforated bricks and cavity blocks in a wide range of applications.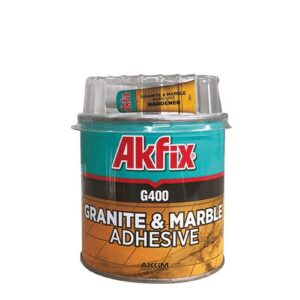 Akfix G400 is a two component marble and natural stone adhesive based on polyester resin.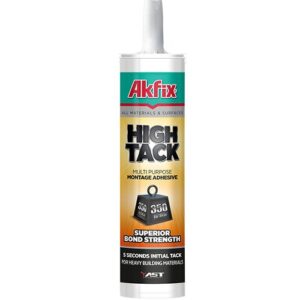 AKFIX MS High Tack Multi Purpose Montage Adhesive is a MS polymer-based, one component, high quality and professional adhesive with high adhesive strength and initial tack. It is suitable for bonding heavy building materials without the use of clamps and/or fixing tape. Akfix WA500 is a premium Wallpaper Adhesive which is based on cold water dispersible starch derivative.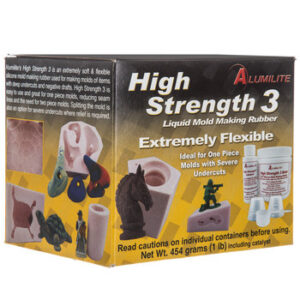 Alumilite's High Strength 3 silicone mold making rubber is our most flexible silicone mold making rubber and is great for making molds of parts with deep undercuts or negative drafts. The High Strength 3's flexibility and high tear strength give it the ability to reduce seam lines by making one piece molds rather than multiple piece molds where seam line removal is critical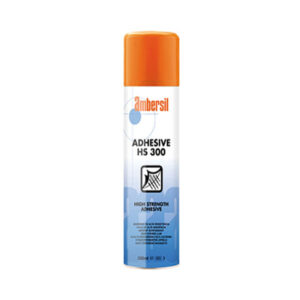 SPRAY ADHESIVE HS 300
is a high strength adhesive, formulated without Methylene Chloride or other chlorinated solvents.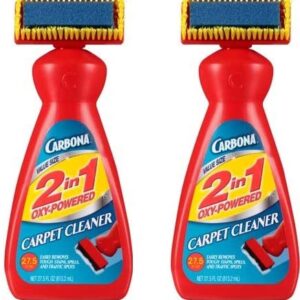 Carpet stains can make you feel as bad as they look.  Change all that with Carbona® 2 in 1 Oxy-Powered Carpet Cleaner. It has an oxy-powered formula and built-in brush applicator that gets right in to get stains right out.  It'll save your carpet…and your day.
Product Size
 – 
27.5 Fl Oz (813.2 mL)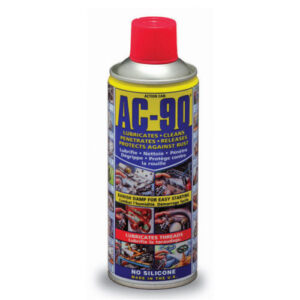 AC-90 is the No. 1 choice multipurpose lubricant. AC-90 is an industrial spray lubricant. AC-90 does not contain Silicone or CFC's. AC-90 will penetrate and release rusty and/or jammed components. AC-90 displaces moisture from vehicle ignitions systems and aids starting and smooth running. Simply; spray AC-90 over the exterior of all distributor leads, spark plug leads and all electrical components to prevent moisture induced faults. Removes permanent marker marks, dissolving the ink as it is wiped away.
Sanities razor blades.
Removes the gunk from stubborn stickers on glass and metal.
Used to clean glass.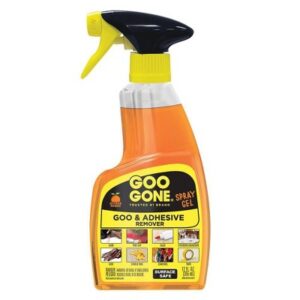 Clinging Spray Gel Formula – For adhesive removal on vertical surfaces, there's no better option than Goo Gone Spray Gel which is specifically formulated to cling to goo on vertical surfaces giving the product time to break down the adhesive.

Safely Remove Goo from your Surfaces – The surface-safe formula removes the goo without harming your surface, so you don't lose the finish, strip away the paint or incur damage while removing a sticky mess. Formulated with citrus cleaning agents and a pleasant citrus scent.

Trusted #1 Brand for Removing Gooey Messes – Try it on gum, crayon, tape residue, glue, pen and much, much more

Drip-free is the Way to Be – Goo Gone Spray Gel clings to stains and sticky messes while protecting the surface below.

Read the reviews to learn even more about what Goo Gone Spray Gel works on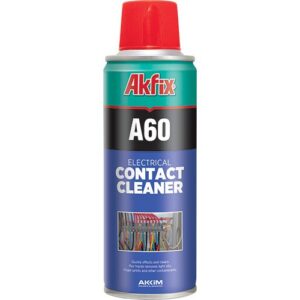 AKFIX E60 ELECTRICAL CONTACT SPREY is a product designed to remove flux and other surface
contaminants. The product evaporates quickly from the surface without leaving any residue. It is
designed for cleaning grease, dirt, oil etc. from electric-electronic equipment.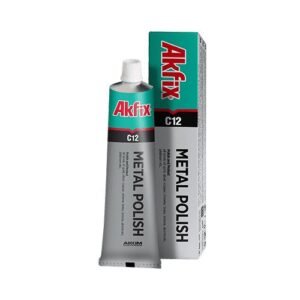 Akfix C12 can polish every kind of gold, silver, copper, chrome, brass, bronze, aluminum, platinum and can make a protective film on the surface.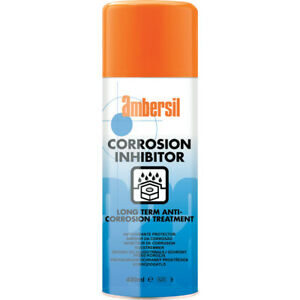 AMBERSIL CORROSION INHIBITOR is a protective coating that provides long lasting protection against rust and corrosion. Corrosion Inhibitor is designed to provide good short to medium term protection of metallic parts and components. Principally designed for indoor use, corrosion inhibitor will also provide a degree of short-term protection to components stored outdoors.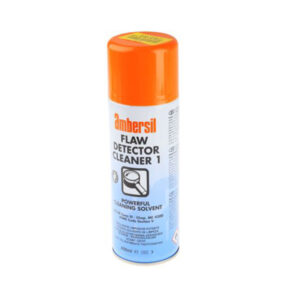 Quick drying solvent cleaner/degreaser and excess penetrant remover for the non-destructive testing of metal surfaces by liquid penetrant inspection. Many cracks in engineering materials can be deep in spite of having a very small opening width on the surface and can cause very serious defects. By normal visual inspection such cracks may be very difficult to detect, but penetrant flaw detection is an extension of the visual inspection method highlighting otherwise invisible defects. The control is carried out using 3 products: Flaw Detector Cleaner, Flaw Detector Penetrant and Flaw Detector Developer.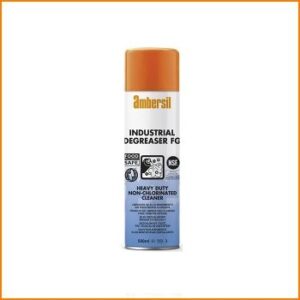 AMBERSIL INDUSTRIAL DEGREASER FG is an innovative solvent blend that is excellent for use where rapid turnaround is necessary and low flash point solvents can be used. Dissolves and removes greases, oils, lubricants, adhesives and contaminants from equipment, machinery, motors and metal parts. · NSF A8 and K1 registered (N° 140255 and 140250) for use in food industry · Cuts through dirt and grease · Fast evaporation to minimise downtime, leaves no residues · Easy "in place" cleaning with minimal odour · Non-corrosive and non-staining · Safe on most plastics, coatings and rubbers (always test prior to use) · Aerosol fitted with a 360O Spray System for all angle use, even upside down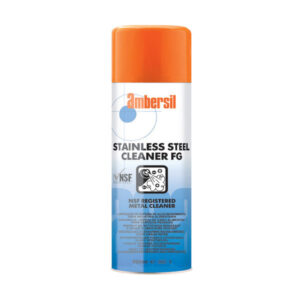 CLEANER FG is a highly effective precision cleaning solvent blend does not contain chlorinated solvents, alcohols or Glycol ethers. Contact Cleaner FG improves the performance and reliability of electrical/electronic equipment in the food industry by preventing contact failures or malfunctions by dissolving and rinsing away contaminants which may hold moisture and cause corrosion or arcing.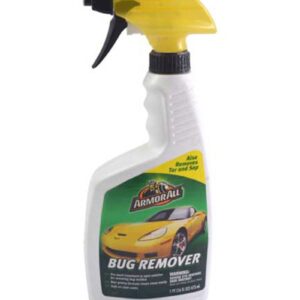 Formula clings to vertical surfaces for better cleaning performance

Requires no rubbing; Just spray on and wipe off

Leaves a protective barrier to make future cleaning easier

This item is not for sale in Catalina Island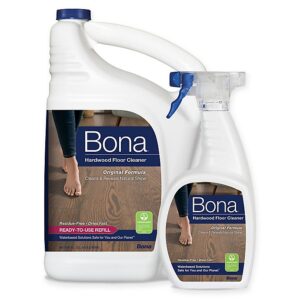 Waterbased cleaning formula dries fast, is residue-free, and safe for people, pets and the planet
Ready-to-use, just spray and mop
GREENGUARD GOLD certified – very low VOC emissions
Safe for all unwaxed, unoiled, polyurethane finished wood floors
packaging may vary
3M Wire Pulling Lubricant Wax is a gray wax based emulsion which has excellent lubricating properties for smooth low tension wire and cable pulling.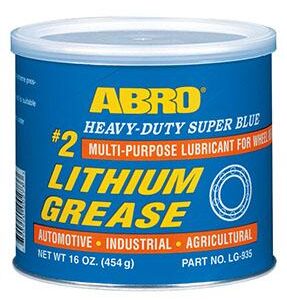 #2 Super Blue Lithium Grease
• Delivers Longer Lasting Performance and Protection
• Suitable for Damp Conditions and Marine Applications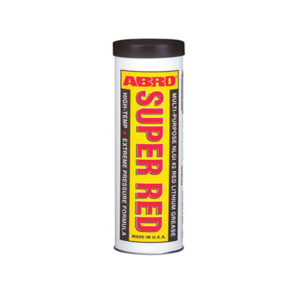 Lubricates Chassis Points, Wheel Bearings and Ball Joints
• Reduces Friction and Premature Wear
• Protects Against Rust and Corrosion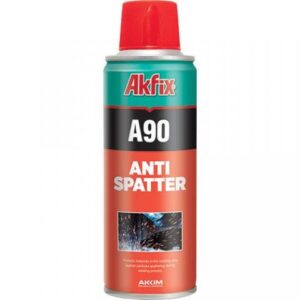 Akfix E90 is an aerosol product that protects materials and surfaces in welding area against particles
spattering during welding process. It ensures a perfect welding operation.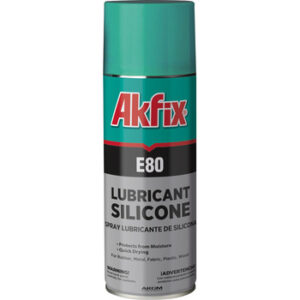 AKFIX E80 is a silicone based mould release agent. It shows perfect performance even at very high temperatures.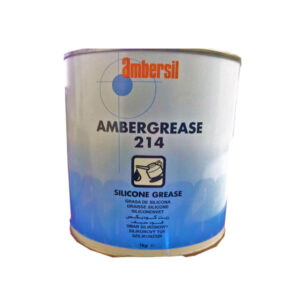 AMBERGREASE 214 is aclear,nearodourless, multipurpose grease formulated from FDA listed ingredient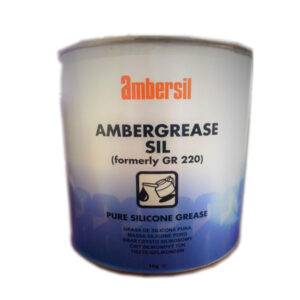 A high purity silicone grease. Ideal for electric motor spindle lubrication or to protect electronics from atmospheric moisture. Use on rubber  o-rings to prevent cracking or degradation.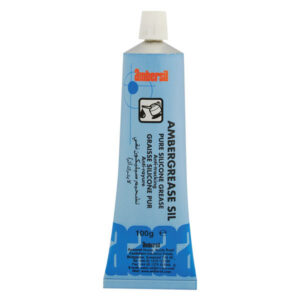 A high purity silicone grease. Ideal for electric motor spindle lubrication or to protect electronics from atmospheric moisture. Use on rubber  o-rings to prevent cracking or degradation.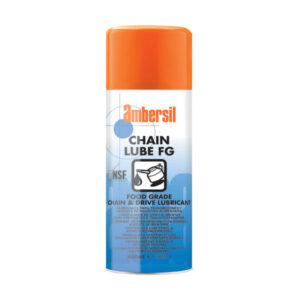 CHAIN LUBE FG is a foaming chain lubricant with added PTFE. A high performance chain and conveyor lubricant based on stable vegetable oils and PTFE. Chain Lube is specifically designed to provide convenient, effective lubrication and protection in applications where incidental food contact may occur or in applications where a clean lubricant is preferred. The gentle foaming action assures an excellent penetration and prevents against dripping.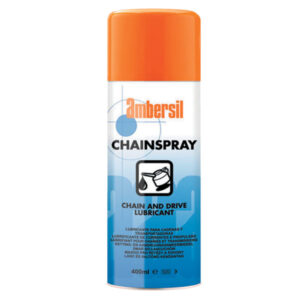 Chain and drive, heat dissipating lubricant, specifically developed for chain lubrication in conjunction with the manufacturers of the fork lift trucks. Offers maximum adhesion to chain links. Resists water wash off' and dust absorption and can be applied to running chains. High temperature resistance up to 300°C. Meets military specifications – Def. Stan D/DQA/TS/CS/217/1. Pencil jet spray pattern to facilitate accurate application. Size: 400ml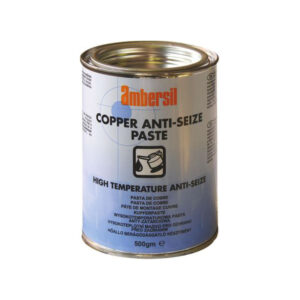 Protects against fretting, seizing and corrosion. Enables easy assembly and dismantling of threaded fasteners even after exposure to high temperatures, providing anti-seize protection to +1100°C.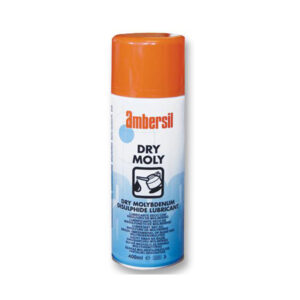 AMBERSIL DRY MOLY is a resin bonded, high pressure resistant, dry film lubricant containing Molybdenum Disulphide for metal-to-metal lubrication where a wet film cannot be tolerated. Once applied, the MoS2lubricant prevents seizing, fretting, scuffing and reduces friction. The thin film also helps prevent corrosion and repels water.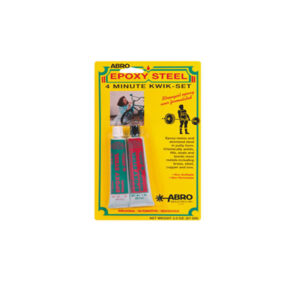 EPOXY Clear 4 MINUTE
KWIK-SET AUTOMOTIVE GRADE• Non-Yellowing, Resists Water and Most Solvents

• Ideal for Automotive, Hobby or Home Use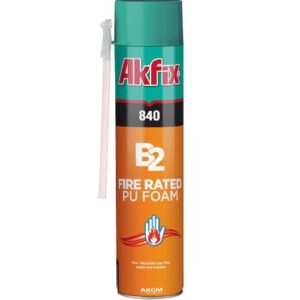 Akfix 840 is a self-extinguishable multi-purpose polyurethane foam which provides moderate fire safety. It is designed for easy dispensing through the straw adapter included to each can.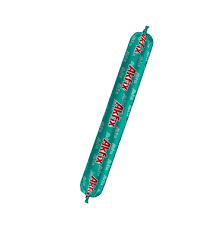 One- part silicone sealant developed for use as a secondary sealant in a dual-sealed insulating glass unit. Insulating glass sealant can bond the individual components, forming a weather-resistant unit.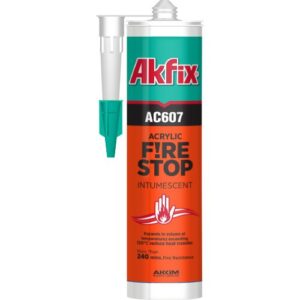 Akfix AC607 is a single component water based fire rated acrylic sealant ideal for
sealing joints to prevent the passage of flammable gases and toxic smoke in
compartment walls and floors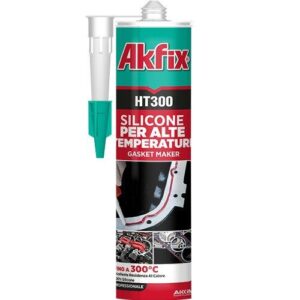 Akfix HT300 is a high-performance silicone sealant developed for
sealing, bonding and repairing works where heat resistance is required.
It is an ideal sealant for high temperature construction applications. It
reacts with atmospheric moisture to produce a tough, elastic silicone.
HT300 GASKET MAKER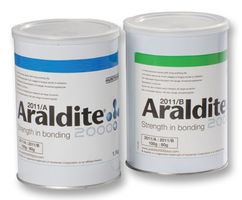 ARALDITE 2011 A/B epoxy adhesive is a multi-purpose, viscous material that is suitable for bonding a variety of materials, including metal, ceramic, and wood. The electrically insulating adhesive is easy to apply either manually by spatula and stiff brush or mechanically with meter/mix and coating equipment. ARALDITE 2011 A/B epoxy adhesive cures at temperatures from 68ºF (20ºC) to 356ºF (180ºC) with no release of volatile constituents.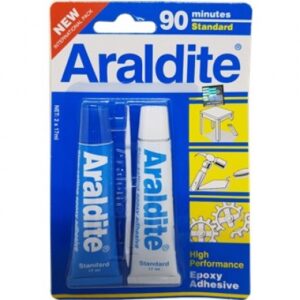 The super strong, gap-filling  epoxy can be used for: –  Workshop  Industry Household.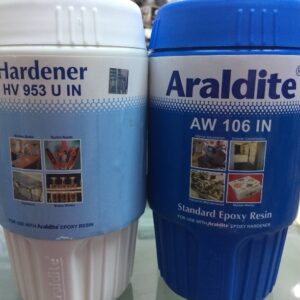 Araldite AW 106 resin/Hardener HV 953U epoxy adhesive is a multi-purpose, viscous material that is suitable for bonding a variety of materials including metal, ceramic, and wood. The electrically insulating adhesive is easy to apply either manually by spatula and stiff brush or mechanically with meter/mix and coating equipment.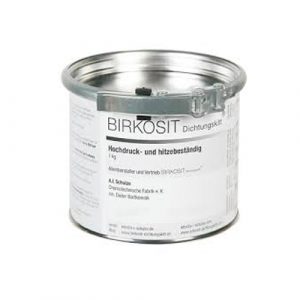 BIRKOSIT Dichtungskitt® is a single-component, paste luting agent/sealing material for industrial use wherever conditions of temperature combined with pressure on smooth, plane sealing surfaces (butt joints) make extreme demands on the quality of the sealing compound.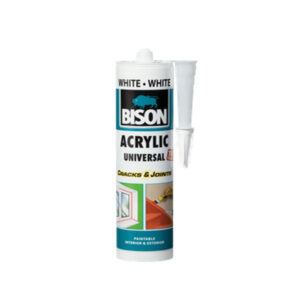 High-quality, very easy to apply, elasto-plastic, acrylic dispersion based sealant for sealing joints, seams, cracks and tears. Paintable and easy to tool. Can be used indoors and outdoors. (Acrylic sealant is not suitable for permanently wet areas and permanently elastic seals. Use Bison Silicone Sealant).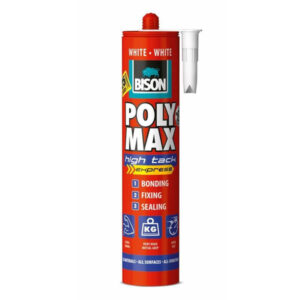 Adhesive Sealants
,
ADHESIVES
,
BISON
,
Conductive Adhesives
,
Construction Adhesives
,
Construction Sealants
,
Polymer Adhesives
,
Rubber Adhesives
,
Sealants
,
Silicone Sealants
,
Water Based Adhesives
Universal assembly adhesive and sealant based on unique SMP technology, with high initial bond strength and fast final strength build-up. For bonding, fixing and sealing almost all (construction) materials on almost all surfaces (both smooth, porous and non-porous surfaces). Very high initial grip. Super fast. Permanently elastic.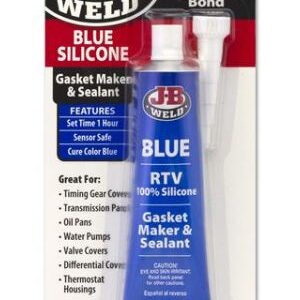 J-B Weld Blue Silicone Gasket Maker & Sealant is an RTV (Room Temperature Vulcanized) Silicone gasketing material designed for use in mechanical assemblies, sealing and bonding uneven surfaces. Upon curing, which occurs when the product is exposed to the moisture in air, the silicone forms a tough, waterproof seal on most surfaces. It will not shrink or crack, resists weathering, is sensor safe and is great for many automotive applications.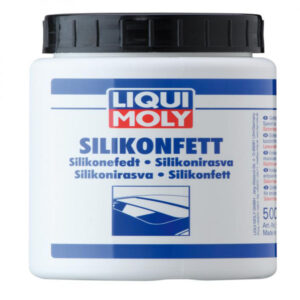 Lubricant with wide-ranging application area. Ideally suited for low to high temperatures. Excellent isolation and sliding properties, e.g., on metal/plastic matings. High oxidation resistance, low volatility. Cold and hot water resistant, age and temperature stable, dirt sealing and transportable in central lubrication plants. Can be used in weakly acidic or weakly alkaline area. Also suitable for roller and roller bearing lubrication with low bearing pressures. Designation acc DIN 51502 K SI 2 S-40. Service temperature: –40 °C to +200 °C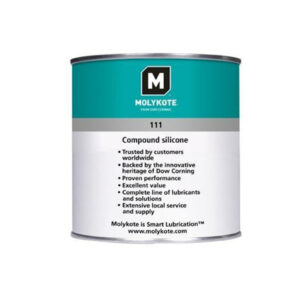 Molykote 111 is a valve lubricant and sealant with good resistance to most chemicals and a wide service temperature range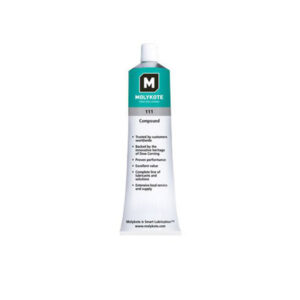 Dow Corning Molykote 111 Compound is a one component, silicone oil that is used for damping, sealing, and lubricating outdoor equipment, pressure systems, electrical equipment, and used as an anti-stick. It provides low volatility, low vapor pressure, wide service temperature range, and water resistance. 150 g Tube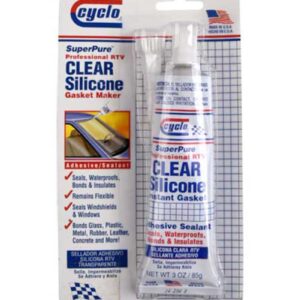 INSTANT GASKET MAKER
PRODUCT FEATURES
Oxygen sensor-safe
Forms instant leak-proof gaskets on all engines
Low volatile formula meets GM 9985443 specs
Pressure resistant
Great adhesive & sealant on many materials metal, glass, plastic, wood, rubber, fiberglass, etc.
Additional SKUs: C993-6 – 6 Pack – 3 fl oz / 89 mL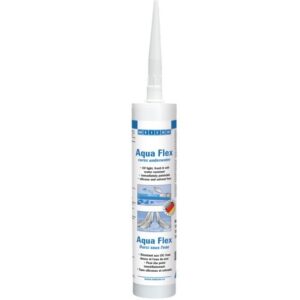 Weicon Aqua-Flex is a special adhesive and sealant that has been specifically designed for use in wet and humid environments. This high quality elastic adhesive offers good gap filling capabilities (up to about 5mm deep by 25mm wide) and cures with practically no shrinkage to form a permanently elastic bond that withstands UV and a wide range of media.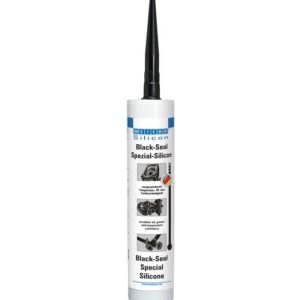 Weicon Black Seal is a special silicone adhesive and sealant that combines excellent oil and grease resistance with high temperature performance. This grade of silicones is black in colour and adheres well to a variety of materials including steel, aluminium, glass ceramic and more.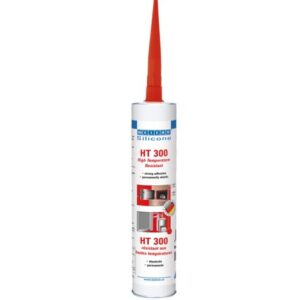 WEICON HT 300 adhesive and sealant is red, high-temperature resistant (+300°C/+572°F), free of solvents, strong, and has acetatecross-linking properties. It is resistant to weathering, ageing and chemicals and is extremely elastic (breaking elongation of approx. 500%).
HT 300 is particularly suitable for heat-exposed bonds and seals and adheres very well to steel, aluminium, glass, ceramics and many additional materials.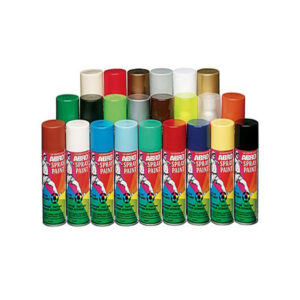 ABRO® High Quality Spray Paints
SEE COMPLETE SELECTION OF
COLORS IN CHART BELOW
• Synthetic Enamel for Durability and Performance
• High Quality, Fast Drying for Interior/Exterior Use