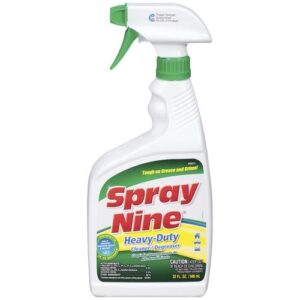 Triple Threat — Cleans + Degreases + Disinfects
THE MOST VERSATILE CLEANER IN YOUR ARSENAL!
Spray Nine's Heavy-Duty Cleaning, Degreasing and Disinfecting action tackles the toughest grease, grime, stains and bacteria where others fail.  Spray Nine's "Triple Threat" formula delivers professional strength performance and has been trusted by Manufactures, Auto Technicians and DIY'ers for over 60 years.  Spray Nine does this all without the use of bleach or corrosive chemicals.
REMOVES
– Tough Grease
– Carpet Stains
– Brake Dust
– Viruses in 30 sec.
– Bacteria in 45 sec.
– Carbon Soils
– Dirt & Mud
– Ink
– Tar
– Bug Splatter
– Yellowing
– Mold & Mildew– Road grime
– Soot & Ash
– Scuff Marks
– Oils