High-temperature silicone sealers can stand up to temperature levels as high as 600 levels Fahrenheit as well as are immune to aging, vibrations and also shock. They are particularly formulated to secure and also encapsulate burner and industrial seals. High-temperature silicone is made to hold up against heats when healed, generally approximately 500 ° F, however some formulas are rated approximately 572 ° F.
There are Different Brand which we are going discuss below :
Permatex® High-Temp Red RTV Silicone Gasket Maker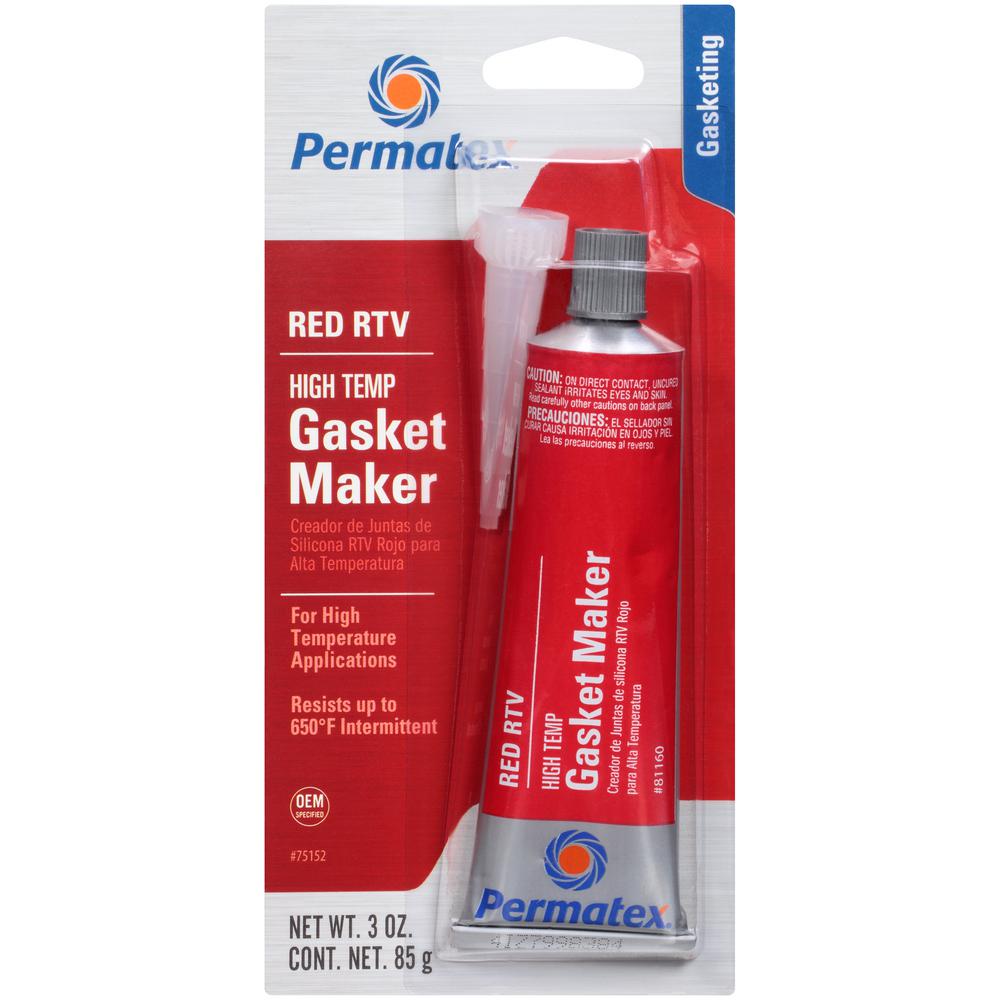 Permatex Hi-Temp RTV Silicone Gasket is a single
component, room temperature vulcanizing gasketing
compound designed to provide reliable "formed-in-place"
gaskets for mechanical assemblies. This material cures on
exposure to moisture in the air to form a tough, flexible, silicone
rubber gasket. The product resists aging, weathering and
thermal cycling without hardening, shrinking or cracking.
Designed to maintain maximum performance in a continuous
temperature environment of 600F. OEM Specified.
PRODUCT BENEFITS
• High temperature use
• Superior adhesion and flexibility
• Replaces most cut gaskets
• Can be used as a gasket maker or dressing
• Easy application
• Non-flammable
• Non-toxic
TYPICAL APPLICATIONS
• Drive housings
• Exhaust manifolds
• Thermostat housings
• Valve covers
• Timing gear covers
• Water pumps
• Differential covers
ORDERING INFORMATION
Part Number Container Size
81160 (26BR) 3 oz. tube, carded
81161 3 oz. tube, carded
81915 7.25 oz. Automatic Tube
81409 (26C) 11 oz. cartridge
85915 7.25 oz. PowerBead
WEICON SILICONE HT-300 HIGH TEMPERATURE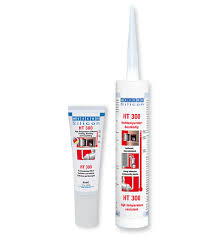 WEICON HT 300 adhesive and sealant is red, high-temperature
resistant (+300°C/+572°F), free of solvents, strong, and has
acetatecross-linking properties. It is resistant to weathering, ageing
and chemicals and is extremely elastic (breaking elongation of
approx. 300%).
HT 300 is particularly suitable for heat-exposed bonds and seals
and adheres very well to steel, aluminium, glass, ceramics and
many additional materials.
HT 300 can be used in industrial furnaces, flue gas systems,
heating installations, exhaust gas routing, heating cabinets and in
many additional areas.
Available sizes:
13050085 Silicone HT 300 85 ml red
13050310 Silicone HT 300 310 ml red
Soudal Silirub HT-N High Temperature Silicone Sealant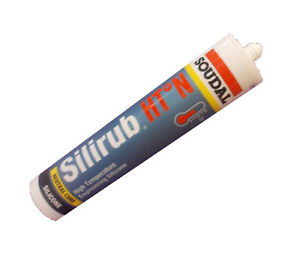 Silirub HT°-N is a neutral cure, elastic, single
component engineering sealant based on silicone
which withstands very high temperatures.
Characteristics:
Permanently elastic after full cure
Neutral cure, high modulus
High bond strength
Withstands temperatures of up to 280°C
Applications:
Sealing of heating installations
Gaskets in pumps and motors
Sealing between metals and plastics which are
exposed to high temperatures
All sealants applications which require high
temperature resistance
Packaging:
Colour: black
Packaging: cartridge 310mL
Akfix HT300 Gasket Maker RTV Silicone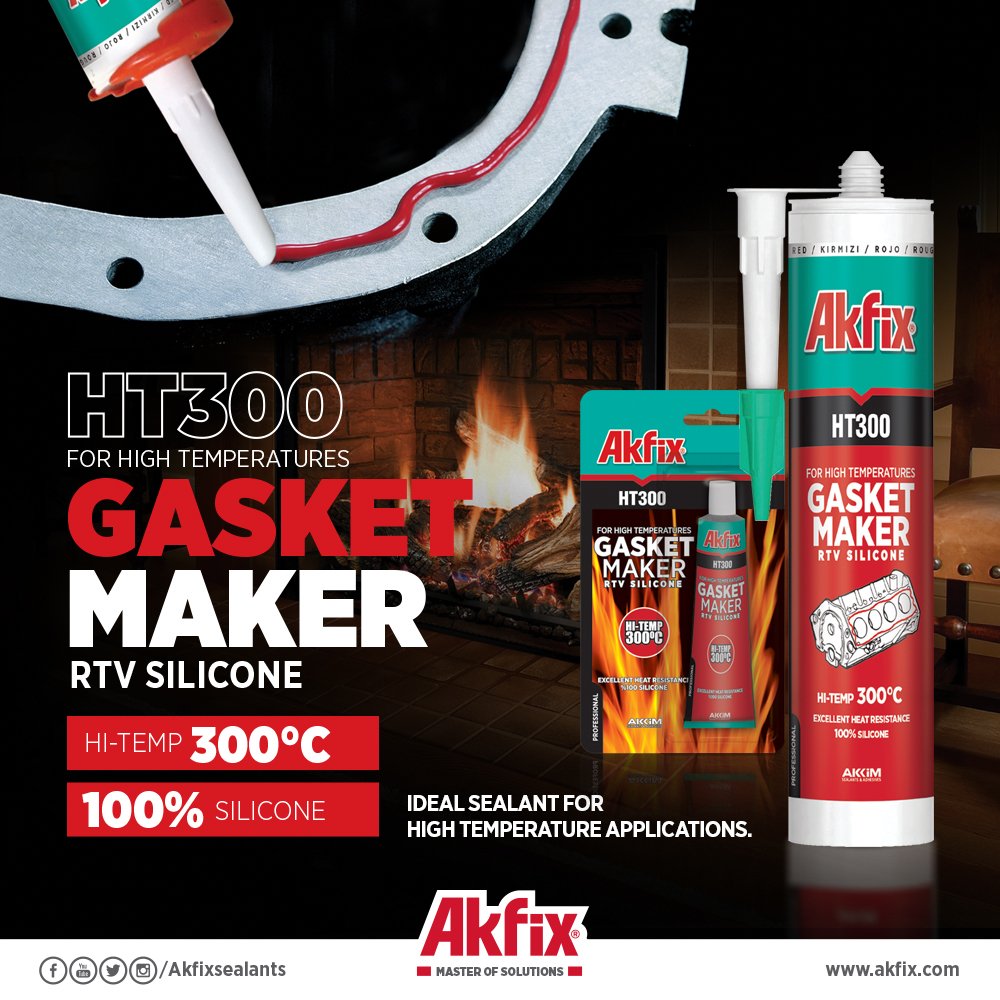 Akfix HT300 is a high-performance silicone sealant developed for
sealing, bonding and repairing works where heat resistance is required.
It is an ideal sealant for high temperature construction applications. It
reacts with atmospheric moisture to produce a tough, elastic silicone.
FEATURES & BENEFITS
– Excellent heat resistance after curing up to 250 °C permanently and up to
300 °C temporarily.
– 100% silicone,
– Remains flexible at low (-40 °C) and high (+250 °C) temperatures,
– Resists to mechanical enforcement after curing,
– Acetoxy cure, RTV silicone,
– Will not crack, shrink or become brittle,
– One component.
APPLICATION AREAS
– Sealing and bonding applications in automotives,
– On heating systems and ovens for sealing / tightness,
– Sealing and bonding in stoves,
– Gaskets in pumps and motors,
– Sealing chimneys,
– Other bonding and sealing applications where parts must perform at
high temperatures.
ELRING Dirko Grey Silicone SEALANT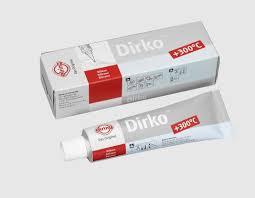 Dirko gray is a high-temperature sealing compound on a silicone base.
Dirko gray cures by reacting with the humidity in the air. The cured
sealing compound is permanently resilient. The product is characterized
by a very large range of applications.
Heat resistance:
The heat resistance of Dirko can be determined by simulating the extreme elongation behavior
of the sealing compound. Several key results of such tests are shown below. The elongation
simulated here does not occur in practice when used as a surface sealant.
Elastic modulus:
To determine the elastic modulus, the cured sealing compound is fixed in a clamping device
and is stretched 100%. The force required for this elongation is measured. The following
diagram shows the development of the elastic modulus (DIN 53504) as a function of the
pertinent temperature and time. The elastic modulus is shown as a percentage by comparison
to the value without temperature stress.
Storage:
Optimum storage conditions: cool (+5°C to +25°C) and dry
Minimum shelf life: 12 months in unopened containers
Type of delivery:
| | | | |
| --- | --- | --- | --- |
| Article No. | Type of packaging | Filling quantity | Packaging unit |
| 036.163 | Tube, long and short nozzle,tube key | 70ml | 12 |
| 527.290 | Tube, long and short nozzle,tube key | 70ml | 12 |
| 610.022 | Cartridge,nozzle | 310ml | 12 |
Victot REINZOSIL Gasket Maker
Material:
Anthracite coloured, solvent-free sealing, adhesive & coating compound
based on silicone. Once completely bonded, REINZOSIL is virtually
odorless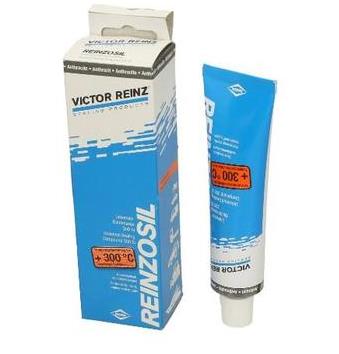 Properties:
This highly elastic universal sealing compound is resistant to mineral oils
and numerous synthetic oils, lubricants, petrol, diesel oil, greases, hot
and cold water, detergents, sunlight, ozone, and sea water.
REINZOSIL is suitable for continuous operation in the temperature
range between -50 °C and +250 °C (briefly up to 300 °C).
Hardness (softness) lies in the range of 30 to 35 Shore A.
Application:
Due to its special properties, REINZOSIL is used in the most varied
applications, e.g. as FIPG (formed-in-place gasket) for wet assembly, i.e.
for sealing small gaps under pressure as well as for cylinder liners in
piston machines, and also to compensate for extensive component
warping. Moreover, the compound is also used to seal constructional
fissures or cracks, and for seals that are subjected to considerable
relative movement.
Contrary to REINZOPLAST, the sealing layer is destroyed during
disassembly, and a new coating is required after the surfaces have been
cleaned.
The compound can also be applied to assembled components. In these
cases, after the sealing joint has been cleaned and degreased,
REINZOSIL is applied directly to the sealing gap, similar to the
procedures used in the building industry.
Storage period:
Unopened cartridges can be stored for about 12 months in a dry
environment (+5 °C up to 25 °C).
Form of delivery:
Form of delivery
REINZ No
Packaging unit
Tube, 70 ml
70-31414-10
25 tubes in counter display
Pressurized can, 200ml
70-31414-20
10 pressurized cans in a
carton